Please do not report this message as spam. We take your privacy very seriously and respect your wishes not to receive unwanted messages. You are receiving this message because either you became involved with our organization or one of the members of OurMilkMoney.com referred you to us. You may UNSUBSCRIBE at anytime.
The 2011 Holiday Gift Catalog
Having trouble viewing this message? Click Here for the online version.
A Little "MILK MONEY" Goes a Long Way!
To Our Friends and Supporters,
The Parents of the Our Milk Money Organization are grateful to you for supporting our desire to provide for our families through our home based businesses. As you search for the perfect gifts for your own loved ones, please consider the products and services that we are offering this holiday season. Your "milk money" is a gift not just to your own families, but to ours as well. With a little commitment from everyone, we are building a life of togetherness for our families and the future of our children.
This holiday season, the OMM staff has made a collaborative decision not only to do the majority of our holiday shopping from within the OURMILKMONEY.COM PARENT BUSINESS DIRECTORY, but also to request that our own gifts be purchased from a POMMO. We invite you to do the same! Not only will you will be getting great products at reasonable prices, you'll be supporting the families you purchase from and helping us in our mission of bringing 1 million parents home!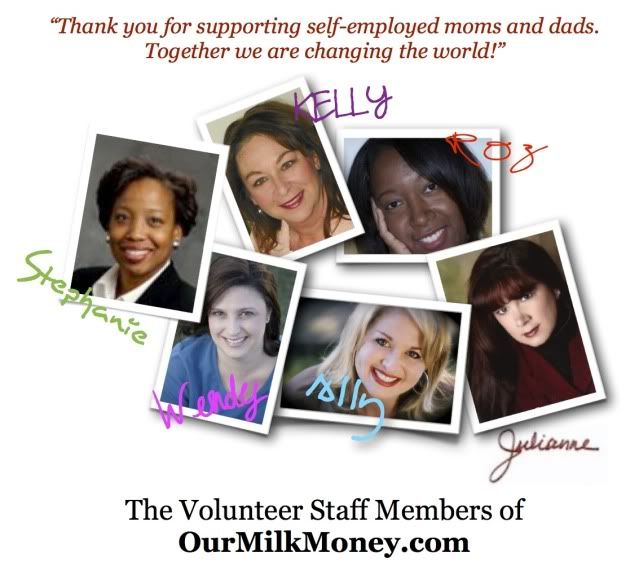 Help us to spread the word!

The Enlightened Mom Abundance Program
Mom, are you tired of feeling rundown, angry, sad, overwhelmed or resentful? Would you like to stop this cycle? Would you like to create a life and home of peace, joy and abundance? Are YOU ready to be the best mom you can be and set an example that will truly impact your
family?
In The Enlightened Mom Abundance Program, life coach, award-winning author, momprene
ur, wife, mom, stepmom and former Miss USA, Terri Amos-Britt, shares the tools that shifted her life, home and work from lack to abundance. Program consists of The Enlightened Mom: A Mother's Guide for Bringing Peace, Love & Light to Your Family's Life ~ Winner 2011 Best Spiritual Book at both NY and San Francisco Book Festivals, The Enlightened Mom Meditations ~ 25 guided meditations that go hand-in-hand with the book, and Stepping onto the Path ~ a four-part audio series to jump start your life into abundance. Go to http://TheEnlightenedMom.com/abundance to learn more!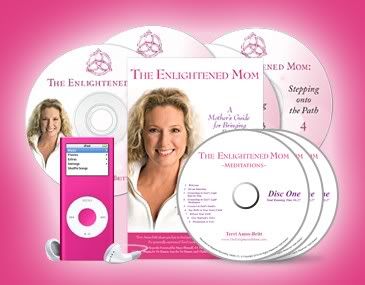 Retail Price: $89.90
Save $19.95
Your Price: $69.95
Cloisonne Bangle

from The Wish Place

This beautiful bracelet is a brand new vintage jet black cloisonne bangle with enamel accents. The inside diameter is 2 1/2 inches. Available in more colors. Special price for OMM members: $15.00 (a savings of over 50%) shipping included.

Ultimate Body Applicator

Our Ultimate Body Applicator will help to tighten, tone and firm your skin and easily help you get the results you are looking for.

Purchase 4 Ultimate Applicators for $49 by becoming a Customer Loyal.

The 2011 edition features a letter from Santa plus 15 more pages of holiday fun and activities.

Santa-Times
The Official Santa Newsletter
only 99 cents!

A Journal - You Can Plant!

When we think, we write. When we write, we grow. That's the idea behind the Think, Write & Grow Journals. These make excellent gifts for the writer in your life! With a plantable cover and 150 pages of lined, eco-friendly inner pages, this journal invites you to put pen to paper and grow as you write. Special OMM price: $24.95 shipping included (a savings of 40 %) Featured is the Green Leaf Journal. Also availble in Orange Branch and Brown & Blue

T

he Best Lunch Box System for School, Work, or Travel!

For Kids & Adults, Easy-Open, Kid-Friendly Lids, Not leakproof, No BPA, Lead, Vinyl or PVC, Affordable, Durable, & Eco-Friendly, Less Pieces, More Function, Easy Prep, Easy Cleanup, Nesting Containers Save Space, Washable Cooler Bag

Why Small Business Needs to Blog

A blog can be your best tool for fast and reliable traffic for your business. A blog is one of the easiest ways to establish an online presence and to begin branding your business. We can help you from installation to maintenance. Get 20% off initial consultation for the OMM holiday special. Coupon code: OMM2011BC. Offer expires December 31, 2011.

The Couponizer

Get a handle on your budget and start saving on grocery shopping, restaurant meals, and household needs today! Join thousands of women who love The Couponizer! It includes: 18 grocery coupon pockets, 4 Non-grocery coupon pockets, 3 gift card/shopper loyalty sleeves, shopping pockets, Shopping List; 20 page tear off list pad with cardboard backing, CoupStacker – pre-sorting mat color coded to match the system pockets, CoupTracker &; 15 page spiral bound list pad with cardboard backing, Scissors & and a Clear, Zippered, Vinyl Carrying Bag

Discount: 15% discount for OMM Members. Use OMM2011

Personalized Marketing Services

50% off Marketing Services

We provide Marketing help to Small, Home-Based and Independent Businesses.

We are offering a 50% off discount your total order (excludes monthly installment option). Please use code: OMM50 when ordering. This offer ends December 15, 2011 at 11:59 PM EST.

Panic Button!

Need a Stocking Stuffer? How about a bright red computer key printed with "PANIC"?

Need a fun gag gift for a frustrated computer user?
Check out our bright red computer PANIC buttons!

Free Shipping! $3.00 each. Discounts for bulk orders.

UGG Sundance Blue Backpack

UGG Australia Small Sundance backpack with fluffy suede flap and tie closure! Comes with dustcover.

Special price for OMM members: $95 which includes shipping!

UGG Magazine Tote

from The Wish Place

Sand with Dark Brown trim - fur accents & inside top toggle closure. One side zip and 2 multi function pockets. Comes with dustcover. Special price for OMM members: $125 which includes shipping!

Matching Mother and Daughter Bracelets from ZarStar Designs!

Handcrafted and made with love for mom and children. Choose from Blue Sapphire, Pink Opal, Green Emerald, Burgundy Crystal, Sparkling Diamonds or Turquoise Crystal. Includes sterling silver beadwork. All bracelets are custom made to order, personally sized and beautifully gift wrapped.

$38 for a set, free gift wrap

Initial Outfitters is a collection of personalized jewelry and gifts that is Your style…Made personal! With Initial Outfitters, you can create a successful business for YOU that can be built at your pace, and to fit your schedule. Our consultants enjoy many benefits including 30% commissions on sales, dream vacations, recognition, contests, relationships and more! Ask about our partnership with Charlie's Lunch to feed children worldwide! For more information about this exciting opportunity to join today, please visit our website or contact our home office at 334-887-1856.

Cloisonne Bead Bracelet from The Wish Place

This beautiful cloisonne bead bracelet is handcrafted and brand new with enamel accents. Available in many colors. Special price for OMM members: $15.00 (a savings of over 50%) shipping included.

NOW 50% OFF!

Get yours for only $17.50

Stella & Dot

Tracy Bennett

Stella & Dot's mission is to TO GIVE EVERY WOMAN THE MEANS TO STYLE HER OWN LIFE. Jewelry is just the tangible expression of something much greater we are creating. Passion & joy are our best accessories.

We aren't in sales. We're in service. We love our customer & work to earn her love. We work even harder to deserve her continued devotion. We surprise and delight at every turn. Exceedingly personal service is our signature.

In our mirror, we see people better than they see themselves. People look at themselves and say, "Wow."

Free Solo Ad

Do you need help promoting your Home Party Business? Advertise today with a Company Listing or Business Opportunity Listing and get a free Solo Email Ad (valued at $25). Advertising with Party Plan Companies.com website is simple and affordable. We pride ourselves on our low cost advertising and excellent customer service. Our website was launched in 2004 and we are #1 in Google for many keyword searches. Check out our testimonials on our website to see what our advertisers think! You can visit the website for more information. To get your free solo ad please contact Kristina before ordering.




Gift Certificate from ZarStar Designs!

Custom made jewelry created and personalized just for you! Certificates available starting at $25.

Does your business need a Social Media Manager? Need help managing your Social Media Profiles?

A Social Media Manager can take your business to new levels, giving you the ability to:

Increase customer loyalty

Generate more buzz

Boost your online visibility

Increase your business bottom line

OMM Holiday Special: $20 off initial Evaluation; $40 off the Basic Package; 20% off any Monthly Maintenance package for first 2 months. Coupon code: OMM2011SM. Offer expires December 31, 2011.

Thanking Out of The Box

In everyday life we have many ways to express our thanks. So why do most printed thank you notes always just say 'thank you'? That's why we came up with "Thanking out of the Box" and it has become a best seller! 8 different two layer cards with silk grosgrain ribbon and 8 matching colored envelopes. White gel pen included. It's almost as if the 'thank you' is a gift in itself.

Special price for OMM members: $28.00 shipping included (a savings of 40%)

White Floral Embroidered Eco Friendly Journal

Exceptional quality and design abound in this beautiful journal. Makes a wonderful gift or keep it for yourself. Inside are 100 sheets of recycled paper.

Special price for OMM: $20 which includes shipping!